Couple's Connect Group
Couple's Connect Group
Thursday, October 12, 2017

Important: This event has already occurred.

View Next Date
7:00PM - 9:00PM
Daniel & Jessica's House - Chaparral Valley S.E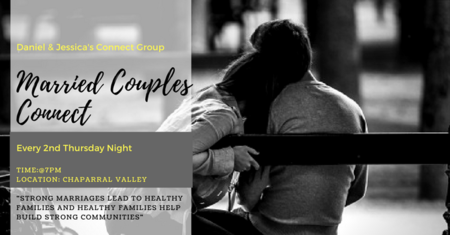 Daniel & Jessica connect: Starting
Thursday Sept 21st
.
Location : 141 Chaparral Valley Mews SE
Day :Every Second Thursday
Summary: This season we will be focusing our connect group as one for married couples. This applies to both young and old. We believe that strong marriages lead to healthy families and healthy families help build strong communities. We want to be a part of that process and journey with you in the area of strengthening your personal relationship with God, your spouse and each other.
Return to Events
---